Safe Community Coalition (SCC) Book Talk on How to Raise an Adult
In anticipation of best-selling author Julie Lythcott-Haims' April visit to McLean to present the talk, "Throw out the Checklisted Childhood: Tips and Strategies for Raising Successful Kids," McLean psychologists Heather Tedesco, Ph.D., and Melissa Sporn, Ph.D., will host a virtual parent book club on Julie's most-acclaimed book, How to Raise an Adult on Friday, March 18, at noon.
Dr. Tedesco and Dr. Sporn will share their thoughts on the aspects of the book that are especially relevant to families in our area. Click here to purchase the book from bookshop.org, which can connect you with a local bookstore anywhere in the country.
Find the Zoom link on the SCC website just before the event.
Less Policing, More Parenting
March 29th at 7:00pm. A virtual event.
What you'll learn:
✓ How to ensure your high school student stays on top of their schoolwork without feeling like a nag
✓ Tech tools for staying focused organized
✓ Smart strategies for tracking assignments (especially if your child's teachers have different expectations and systems!)
✓ Ways to help your high schooler build the independence they will need for college
✓ Opening the lines of communication to improve the parent/child relationship and avoid conflict around academics
Parents must register in advance here to get a Zoom link or to have us email the replay video.
One Pill Can Kill
Due to the increase in counterfeit pills and the overdose rate among our youth, the DEA started the One Pill Can Kill initiative. Here is the link that provides information about the initiative and pictures of counterfeit pills. Social media plays a role in the distribution of pills. Here are the social media accounts used and the emojis used between the dealer an "customer."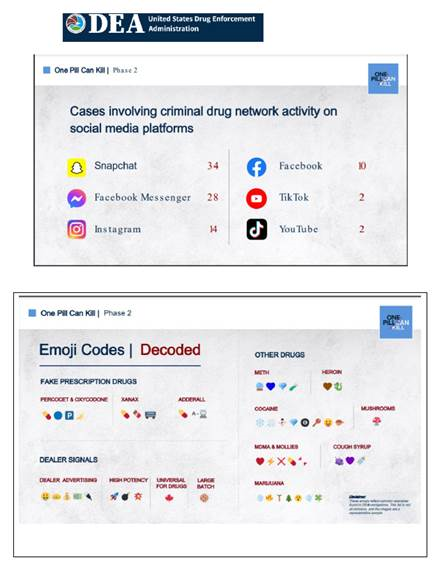 Parent Coffee and Panel Discussion on Mental Health and Trends
Friday, November 12, 2021

We organized a panel discussion for you to share information on mental health of students, impacts during COVID, and how we can help students in our various roles at the school, FCPS, law enforcement, and more importantly as parents and guardians.
Our panelists included experts in their field from the McLean High School clinical team, CarolAnn Forrest and Marly Jerome-FeathersonThe FCPS Substance Abuse Specialist, Kelly Rankin, and the school SRO Officer DavisAssistant Principal, Emily Geary, moderated the panel discussion
---
November is PTA Healthy Lifestyles Month!
Explore resources to help your family maintain healthy minds, healthy bodies and a healthy Earth.
Learn more here.
---
Book Talk at McLean High School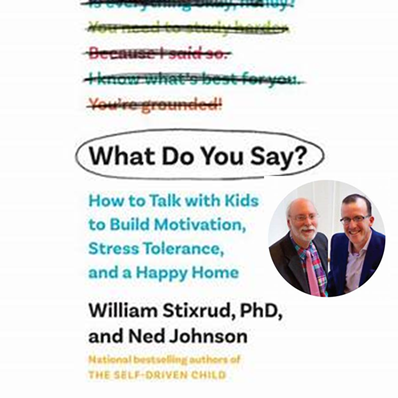 Last week, McLean Student Services hosted the authors of the parenting book, What Do You Say? How to Talk with Kids to Build Motivation, Stress Tolerance, and a Happy Home. Dr. William Stixrud and Ned Johnson provided excellent parenting insights and answered many questions posed by our parents. This video is now available on the McLean web site at the link below. https://mcleanhs.fcps.edu/student-services/programs-and-presentations
On Wednesday, January 26, Kathleen Otal, School Counselor at McLean, hosted an in-person book talk on the first half of the book. Parents can purchase the book at the link below to learn more about what you can say to your child: https://www.politics-prose.com/book/9781984880369
---
Parent Education Series: Substance Abuse Prevention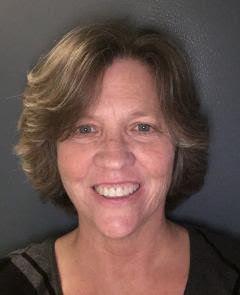 We offered a three-part Parent Education Series on Substance Abuse Prevention in collaboration with the FCPS Substance Abuse Prevention Specialist, Kelly Rankin. The three-part series will provided 20-minute education sessions for parents to learn about the development of the teenage brain, impact of drugs on its development, and become aware of the current drug trends. Our main goal was to build awareness and arm parents with the knowledge and tools to identify early signs of substance use disorder, how you can play an important role in prevention, and how to have a conversation with your child about addiction. These education series were made available to the schools in the McLean pyramid and the recorded sessions are available below.
Click here to view a recording of the introductory meeting.
Part 1 – Teenage Brain: Building Connections on February 25, 2021. To view a recording of the meeting, click here.
Part 2 – Drugs and the Teenage Brain on March 25, 2021. To view a recording of the meeting, click here.
Part 3 – Drug Trends: Identifying Common Household Items and Drug Culture on
April 22, 2021. To view a recording of the meeting, click here.
Kelly Rankin holds a Masters in Social Work from George Mason University and is a
Licensed Clinical Social Worker. She is a Certified Substance Abuse Counselor (CSAC)
in the Commonwealth of Virginia. She has been working in the field of substance abuse
and mental health with both adults and adolescents since 2007. Kelly worked at
Phoenix House as a Program Director of the women's residential facility from 2011-
2017, then moved to treating adults in an outpatient setting from 2017-2018. After
witnessing the opioid epidemic destroy families, and patients overdosing, she made the
decision to work with Fairfax County Public Schools as a Substance Abuse Prevention
Specialist. For more information, here is a link to her flyer.
Did You Know…The Substance Abuse Prevention Specialist (SAPS) program has created our first official quarterly SAPS Newsletter! The link is here: SAPS Newsletter
---
New Law Regarding Marijuana
Here are some quick facts for the new "legalized" marijuana law that took effect July 1, 2021:
The decriminalization and legalization laws are different for anyone under 21
Legalization means that adults 21 or older are allowed to possess up to one (1) ounce of marijuana.
Anyone under 21 years of age caught with marijuana is subject to a civil penalty of no more than $25 and will be required to enter a substance abuse treatment or education program or both, if available.
Possession on the grounds of a public K-12 school would constitute a class 2 misdemeanor.
​Students found in possession, under the influence, or distributing marijuana on FCPS school grounds will be referred to a FCPS prevention specialist and may be assigned a consequence up to a referral to the division superintendent, per the Student Rights and Responsibilities
Marijuana is still a Drug Enforcement Agency schedule 1 drug
---

The DEA holds 2 annual drug take back days, the next one is April 24 from 10:00-2:00.
The McLean Pyramid Substance Abuse Prevention Specialist, Kelly Rankin will be at the Mclean District Police Station front parking lot between 10:00-Noon. Feel free to stop by and meet Kelly or take the opportunity to ask questions about prevention.
How to Raise an Adult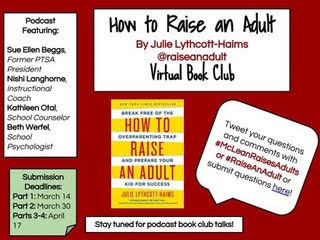 Counselor Kathleen Otal, former MHS School Psychologist Beth Werfel, and MHS Instructional Coach Nishi Langhorne, joined PTSA Past President Sue Ellen Beggs in McLean's first ever book talk podcast, featuring the book How to Raise an Adult by Julie Lythcott-Haims.
The co-hosts discussed Part 1 and Part 2 at the links below. It is a great investment of an hour to listen to them share how to break free of the overparenting trap and prepare your child for success in a practical way. Parenting in the age of the coronavirus is also discussed.
It is the perfect time to hone your parenting skills!
---
McLean High School Mental Health & Well Being Resources
McLean HS has a superb clinical team providing social-emotional support. The mental health and wellness support services and resources: McLean's Clinical Staff are available to consult with parents and students regarding mental health related concerns and behaviors. They are also able to provide community resources as needed. Please see their contact information below:
Carol Ann Forrest, School Psychologist, CMForrest@fcps.edu
Beverly Parker-Lewis, School Psychologist, baparkerlewi@fcps.edu
Marly Jerome-Featherson, School Social Worker, mjeromefeath@fcps.edu
For more Mental Health and Wellness Information, please check out these Student Wellness Resources, FCPS's Healthy Minds Blog and the FCPS's Parent Resource Center.
Additionally, counselors have and will continue to hold monthly social-emotional lessons with our students by grade level.